Production of Graphite Electrode materials are petroleum coke, needle coke and coal tar pitch
(1) petroleum coke
The petroleum coke is a petroleum residue, and the petroleum asphalt is obtained by coking the combustible solid product. Color black porous, the main element of carbon, ash content is very low, generally below 0.5%. Petroleum coke is a kind of easy Graphite Carbon, petroleum coke in the chemical industry, metallurgy and other industries have a wide range of uses, is the production of artificial Graphite products and electrolytic aluminum with the main raw materials.
Petroleum coke by heat treatment temperature can be divided into two kinds of raw coke and calcined coke, the former by the delayed coking of the petroleum coke, containing a large number of volatile, low mechanical strength, calcined coke is generated by calcination. Most of the refineries in China only produce coke, calcined work in the carbon plant.
Petroleum coke by sulfur level distinction can be divided into high sulfur coke (sulfur 1.5% or more), sulfur coke (sulfur 0.5% -1.5%), and low sulfur coke (sulfur below 0.5%) three, Graphite electrodes and other artificial graphite products are generally produced using low sulfur coke production.
(2) needle coke
Acupuncture coke is a kind of high quality coke with obvious fibrous texture, strong thermal expansion coefficient and easy graphitization. When the coke is broken, it can be divided into slender granules by texture (aspect ratio is generally above 1.75) Anisotropic fibrous structure can be observed under polarized light microscopy, which is called needle coke.
The anisotropy of the physical properties of the needle coke is very obvious, parallel to the direction of the long axis of the particles has good conductivity thermal conductivity, thermal expansion coefficient is low, in the extrusion molding, most of the long axis of particles in the extrusion direction. Therefore, the needle coke is the manufacture of high power or ultra-High Power Graphite Electrode key raw materials, made of graphite electrode resistivity is low, thermal expansion coefficient is small, good thermal shock resistance.
Needle coke is divided into oil-based oil as raw material for the production of oil-like needle and refined coal asphalt raw material production of coal-like needle coke.
(3) coal tar pitch
Coal tar pitch is one of the main products of deep processing of coal tar. For a variety of hydrocarbon mixture, at room temperature for the black high viscosity semi-solid or solid, no fixed melting point, softened after heating, and then melt, the density of 1.25-1.35g / cm3. According to its softening point is divided into low temperature, medium temperature and high temperature asphalt three. The temperature of the asphalt is 54-56% of the coal tar. The composition of coal tar is extremely complex, and the nature of coal tar and the content of heteroatoms, but also by the coking process system and the impact of coal tar processing conditions. Characterization of coal asphalt characteristics of many indicators, such as asphalt softening point, toluene insoluble (TI), quinoline insoluble (QI), coking and coal tar pitch rheology.
Coal asphalt in the carbon industry as a binder and impregnating agent used, its performance on the carbon products production process and product quality greatly affected. Binder Asphalt generally use softening point is moderate, high coke value, β resin high temperature or medium temperature modified asphalt, dipping agent to use a lower softening point, low QI, rheological properties of good temperature asphalt.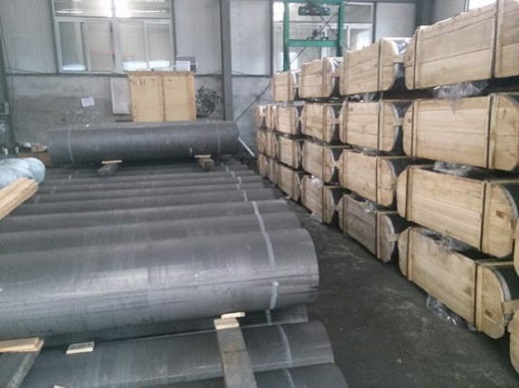 Looking for ideal Natural
Special Graphite
Electrode Manufacturer & supplier ? We have a wide selection at great prices to help you get creative. All the Artificial Special Graphite Electrode are quality guaranteed. We are China Origin Factory of Crystal Special Graphite Electrode. If you have any question, please feel free to contact us.
Product Categories : Graphite Electrode > Ultra High Power Graphite Electrode